What you will learn with this eBook
Building your skills

Work from your strengths and look through the book to add to these strengths. Continuous learning is the key to building a flexible business.

The perfect business model for you

Create a business model that is customised for you and your skills. With the book you have all the information you need to get started.

Create new income opportunities

Tired of billable hours? Expand your horizons and discover ways to create new income including passive income.

Clients are the key

Lean how you can help your clients grow their business. Take you bookkeeping skills to another level by using the resources in the book to help your clients grow their business.

The Toolkit

Your book is filled with useful guides and has as a feature the Toolkit to enable you to set up your bookkeeping business. The book is your vey best tool for establishing and growing your business.

Purchase the bundle

When you purchase the Bundle you will have the opportunity to apply your knowledge with the Workbook as well as using the eBook at times when travelling.
This book is the first of its kind in Australia. It can take bookkeepers to a whole new level.
Our students will welcome this. It's so useful and comprehensive. And it has lots of useful case studies.
This is an important book for all professionals in the bookkeeping industry. It fills a gap.
Take a peek inside
The book will be your ultimate guide to establishing your bookkeeping business or growing your existing one. You'll learn:
How to start your bookkeeping business for under a few hundred dollars and just a few hours a week of your time
How to charge top dollar and keep your top clients
How to win clients by adopting our step-by-step marketing programs
How to get referrals from accountants
How to create new income streams by producing custom reports for your clients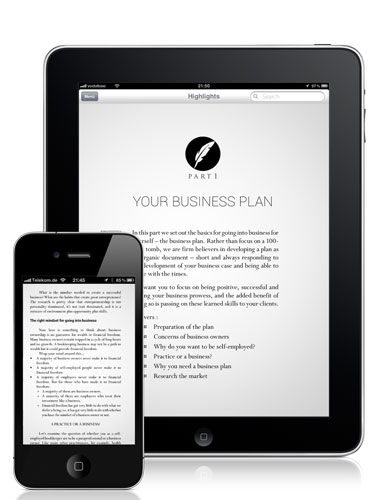 Read it on your favorite device!
Buy the eBook or better still, buy the value bundle and read the eBook on your Kindle, you iPad or your smartphone. Travelling by bus or train? Don't waste a moment, study your book Starting Your Bookkeeping Business at your convenience.
The eBook has offers a number of features not available on the print version and these include links to additional resources as well as links to other information sources that will bring your bookkeeping business venture even closer.